Celebrate Your Home With Custom Artwork. 
We're a team of professional illustrators who create beautiful, one of a kind digital drawings of homes all around the world. We believe in art which lasts a lifetime - using the finest quality art paper.
Whether you're a new homeowner or have lived in yours for generations, let us create a truly unique illustration for you to pass on.
Get Beautiful Custom Art In 3 Steps!
1) Fill out your personalised captions and upload a photo of your home above - follow our photoguide for best results!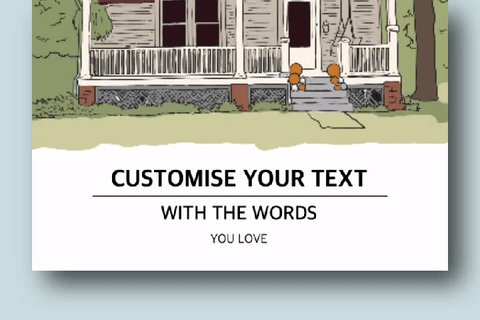 2) Our artists will create a gorgeous, professional digital drawing of your home.
3) As soon as your art is completed, it will be printed on textured fine art paper, packed and swiftly shipped to you from our print experts in the US.
A New and Unique Way To Celebrate Your Home. 

The Perfect Gift
Congratulate a new homeowners, a tenant, or just give the ultimate personalised print to a your loved ones.


Beautifully Fits Any Decor
From the colors we use to our unique hand illustrated style - it's designed to fit any style! Whether ultra modern, or more traditional.


Hand Drawn With Love
Our committed team of digital artists preserve every detail in your unique design. 


Art That Lasts
Our Illustrations are printed on premium, fine art paper with a gently textured surface to such a high standard they're guaranteed for life. 
To order a Framed Print - click here!
To order a Canvas Print - click here!